The Industrial Internet Consortium ® (IIC™), the world's leading organization transforming business and society by accelerating the Industrial Internet of Things (IIoT), and the Industrial Value Chain Initiative (IVI), the forum of smart manufacturing for connected industries based in Japan, hosted their first joint workshop on June 8, 2017. Since each liaison officer on both sides was from the same company (Fujitsu). 220 IIC and IVI members participated and IVI took the first step to the global stage.
From IIC, the steering committee members Wael William Diab (Huawei) and Dr. Jacques R. Durand (Fujitsu) visited Japan. Their speeches focused on building coalitions to address the global IIoT ecosystem. And three use cases, testbeds in the manufacturing space of Fujitsu, Toshiba, Hitachi, Mitsubishi Electric, and Intel were introduced.
IVI gave speech on the tools and models of the IVI reference architectures(IVRA) from Chairman Nishioka, and introduced four smart manufacturing scenarios who received the IVI AWARD. In addition, we gave an IVI AWARD recognition ceremony with Prof. Ogawa (University of Tokyo), Chairperson of Advisory Commendation.
 Mr. Wael William Diab

 Dr

. 

Jacques R. Durand

 Prof. Nishioka



Workshop scenery

Chairperson Ms. Kouroku

 
IVI uses cases
 
 

 Mr. Mizuno(CKD)




 Mr. Yamada(MeijiDenki)




Mr. Konno(Konno Corp.)




 Mr. kitano(NEC)



 
 
IIC uses cases
 
 
Mr. Mizutani(Fujitsu)

Mr. Horiuchi(Toshiba)

Mr. Kitai(Hitachi)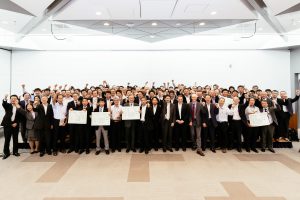 Cross Industry Committee Chairperson
Ms. Hatsuko Kouroku(Fujitsu)