---
Report of the IVI Spring Symposium 2016
It was still chilly in Tokyo on March 10 when the symposium was held. Receptionists were very busy to receive 450 participants. Pepper, the very special IVI member, also welcomed the participants and softened their heart.
■ Opening speech by Mr Kasutani, METI
Mr. Toshihide Kasutani, Director-General, Manufacturing Industries Bureau, Ministry of Economy, Trade and Industry, opened the symposium by a guest speech titled "Dealing with the fourth industrial revolution."
Mr. Toshihide Kasutani,Director-General, Manufacturing Industries Bureau, Ministry of Economy, Trade and Industry
■ IoT is not just for large enterprises!
Mr. Kasutani pointed out that political responses in Japan included a programme "Support of SMEs for introduction of the IoT", and encouraged the audience to be active in this field.
Naturally, in IVI there is a workgroup "Connected small factories" (WG 306). At the symposium, it has been made clear that IoT is not too cumbersome to implement, and can be utilized by organizations other than large enterprises, taking the right approach.
In fact, SMEs have more restrictions than large enterprises. However, IVI is expected to create an IoT model which would make a difference especially for environments with limited resources.
■ What is important in the first place is a connection of people
Different workgroups presented their outcome and findings. Many projects not only were novel by their scope, but also were a first time for many companies to work together, as all projects were having mixed participation from sometimes even competing enterprises.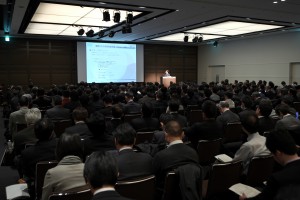 The presentation of most workgroups ended with a photo of the workgroup's celebration party. A speaker said a remarkable comment, "Connection of people is as important as the connection of data.", and similar notes were mentioned by other speakers.  Data sharing may not be effectively realized without communication.  Communication should thus be the first step for "Connectivity." And the increased cross-communication was clearly felt a one of the outcomes of IVI activities since its inception.
■Feedback from questionnaire
Participants have been asked to fill in a questionnaire before leaving the symposium. Here is some feedback.
To the question "What is an important issue for manufacturing business regarding the IoT?", many cited a speedy response by the top management, cost-effectiveness in dealing with the IoT, creation of a business model, shortage of IT engineers/in-house human resources/knowledge, and ensuring of security.
To the question asking for "comments on the content of WGs' presentation and the results of demonstration experiments," many mentioned easy-to-understand presentation with animation, practical acts (demonstration experiment) instead of a mere theory, and expectation for continuous activities. It was a delight that our activities were highly recognized at this symposium.
To the question asking for "any contributions your organization would be able to make for IVI," many positive answers were given including: standardization of infrastructure, platform, BOP model, etc.; support for dissemination of the idea and method of IVI throughout Japan; and participation in WGs.
To the question asking for "comments or requests for the existing and future activities of IVI," several answers were given including: "I hope your growth. Let's do our best," "I will participate in your activity," "I expect that loose standards will be made concrete and published soon," and "I hope your activity will lead to feedback to SMEs and a utilization system within them."
■ Conclusion
Many visited the symposium and became aware of the activities of IVI. They also expressed their support through the questionnaire.  We hope that our activities will become known to more people through this kind of symposium and other opportunities.
Reporter: Fumiko Kawagishi
---
Procedures for "Connectivity" using loose standards
IVI has been working on the development of loose standards in Standard Model Committee, along with the tasks of Business Scenario Workgroups. Reference of activities, information and things has been in preparation to be used when making business scenario.
The presentation described the procedure for the development of business scenario, and introduced the activities conducted in response to business scenario by Activity Reference Model WG, Information Reference Model WG, Thing/Object Reference Model WG and Data Reference Model WG.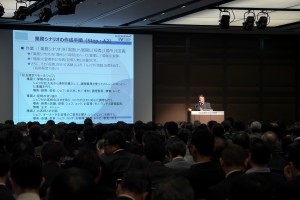 Mr. Shinichiro Chino, Mitsubishi Electric,Standard Model Committee
---
Activity report of 20 WGs
The activity reports of the Business Scenario WGs were displayed at the foyer in front of the lecture hall.
■ Session 1: Advanced quality assurance by connecting data – Toward 0 failure production
The WGs belonging to this area have been trying to link the network of connected factory between equipment, enterprises in a value chain, and enterprises across different value chains. Demonstration experiments made by WGs have shown that various kinds of operational loss could be reduced and that speedy control of a supply chain would be realized. The workgroups covered the following topics:
101 Cloud enabled monitoring platform for global distributed   factories.
402 Global knowledge network for call centers for after service
management
306 One-stop portal and collaborative quotation management by
connected SMEs
309 Cyber physical production and logistics systems with common
interface
310 Risk management by connected production information in global SCM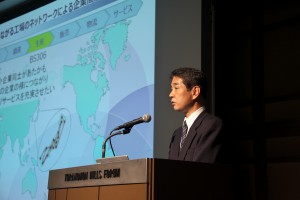 Mr.Yasutaka Koga, Toshiba, Session navigator
■ Session 2: Emerging technologies for production line management by IoT
The WGs of this area have made efforts to operate a production line efficiently by effective use of the production data based on the IoT or the cloud environment. The report includes the result of demonstration experiment on data collection of production equipment, monitoring of life, fault prediction, and operational simulation for recovery from a trouble. The workgroups were:
105 Interoperable life cycle management for equipment and production line
106-2a Real-time sensor data analysis by connectable
multi-vendor network
106-3 Cloud based simple monitoring scalable for legacy production
line
106-2b Preventive maintenance by data pattern recognition and
discovery
106-1 Dynamic production optimization by simulation integrated CPPS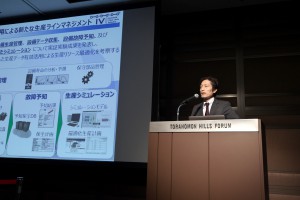 Mr.Hirokazu Kominami, Panasonic, Session navigator
■ Session 3: Platform connecting design, manufacturing and customers
The WGs represented in this session aim to construct a platform where the processes making up the whole value chain will be dynamically connected each other. The report includes efforts for changing information and BOP connecting manufacturing and design, MES and supplier linkage connected to procurement, and solution of custom specifications connecting to customers. The workgroups were:
208 Knowledge of bill of production process for E-BOM to M-BOM
traceability
108-3 Cyber dashboard for design and engineering of unexpected design change
403 Mass-customization for end users directory connected to factories
207 Agent based location free manufacturing in dynamic supply chain
108-2 Communication robot for autonomous MES connected between factories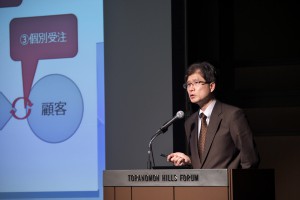 Mr.Tomohiko Maeda, Fujitsu, Session navigator
■ Session 4: New era of Human centric manufacturing by IoT
Regarding the Connected Factory, one of the IVI's themes, cooperation of operation including human resources has been actively debated. In the session 4, the flow of manufacturing and the flow of operation will be connected, from a worksite-oriented, human resources-centered perspective.  The report includes our efforts to innovate operations of line workers, managers, maintenance staff, quality assurance, and production technology. The workgroups in this session were:
204 Robotics line building for SMEs using cloud knowledge database
108-1 Proactive machine communicating with workers in IoT environment
201 Advanced quality assurance by connecting data – Toward 0 failure production
211 New workers' standard in human/machine co-operative factories
109 Remote service of production engineering by bill of process
information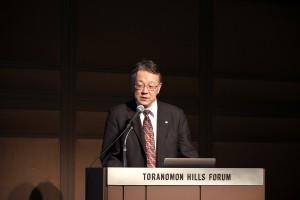 Mr.Osamu Horimizu, Hitachi, Session navigator
The activity report of 20 workgroups will be printed in a brochure. It may be given to non-IVI members who need it, if any, at the actual cost of printing.
The brochure will be released in June. Its distribution will be announced on the IVI Newsletter.
Poster session of Business Scenario WGs
The third issue of IVI Newsletter, featuring the symposium held on March 10, has been prepared and distributed so that those who could not participate in the symposium would also be able to share its content and to expand the circle of IVI activities.
---
Updates of Germany
Dr. Axel H. Saleck, an academic member of IVI living in Germany, introduced updates on Industrie 4.0 from Germany ― motivation, environment, status and trends of Industrie 4.0 ― in a joint session with Mr. Kawano from Beckhoff.
The progress of I4.0, the 2025 vision "Smart Service Welt" , the recent announcement of cooperation between Industrie 4.0 and IIC towards standardization and others were presented.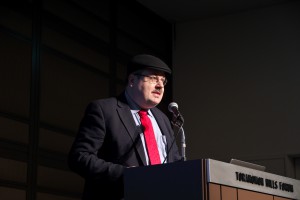 Dr. Axel H. Saleck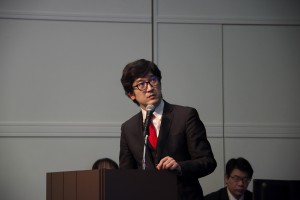 Mr. Toshimitsu Kawano, Beckhoff
---
IVI's future task, "IVI Platform Development"
The symposium was concluded by IVI President Yasuyuki Nishioka who spoke about the near-future plan of IVI platform development.
This platform is a system to align related operations and to exchange/transmit necessary data.
In addition, the idea of local seminars/workshops throughout the country was mentioned.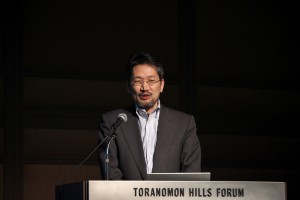 President Yasuyuki Nishioka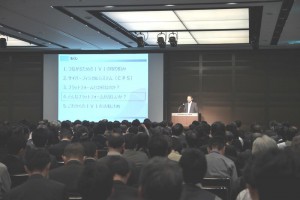 ---
IVI President Yasuyuki Nishioka will be a speaker at the HANNOVER MESSE 2016, as part of the Forum "Industrie 4.0 meets the Industrial Internet".
His speech titled "Industrial Value Chain Initiative (IVI) – A Japanese contribution to smart manufacturing" will be held on Apr. 28th, 11:00 AM – 11:30 AM at Hall 8, Stand D19.
→ Read more
http://www.hannovermesse.de/event/the-industrial-value-chain-initiative-ivi-a-japanese-contribution-to-smart-manufacturing/VOR/69264
---
From the Editors
This third issue of IVI Newsletter, featuring the symposium held on March 10,  has been prepared so that those who could not participate in the symposium would also be able to share its content and to expand the circle of IVI activities.
We hope to serve your interest with this newsletter.
【IVI Publication Committee】
IVI Newsletter Editor's Group
http://www.iv-i.org/en/