After receiving a notification of METI's decision of a subsidy for "Promotion project of a system development, that is data sharing system among cooperative companies powered by AI system, for Connected Industries", which is supported by MITI for promoting Connected Industries and one of issue setting type developments, Industrial Value Chain Initiative (IVI, Yasuyuki Nishioka, IVI President, Professor, Hosei University) is starting development of a framework for open cooperation in manufacturing with participation of its members.
 The project was approved in public recruitments of New Energy and Industrial Technology Development Organization (NEDO). It is aimed at developing data sharing system among cooperative companies powered by AI system and encouraging value creations for domestic and international companies by using data though developing an open framework in five major fields of Connected Industries. A project, Business model development project for data transaction using "Connected Industries Open Framework (CIOF)" (hereinafter referred to as the project), was proposed in the field of manufacturing and robot by IVI and it was approved.
   IVI will develop a system and business ecosystem to facilitate more business-to-business data transactions for manufacturing-focused, sensitive and valuable deep data up to 2020. The purpose of the project is to circulate valuable data in factories to the outside in the form for protecting its intellectual properties based on the reference architecture of IVI, which has been proposed as an international standard. JTEKT Corporation, DMG Mori Seiki Co., Ltd., Mitsubishi Electric Corporation, and Yaskawa Electric Co., Ltd. are in charge of factory sides, and SCSK Corporation and Business Engineering Co., Ltd. are in charge of IT sides in the project. Apstweb Inc., a startup company, is responsible for the system development and maintenance which is a basis of the framework.
 Problems such as security problems of data and attribution of intellectual property of data has been bottlenecks until now in order to use manufacturing data inside factories and to cooperate with companies outside. In addition, there were problems that meanings of data could not be understood at data transaction between factories because procedures and terminologies were all different each other.
 IVI will try to solve these problems by using a loose standard dictionary (Note) and to create a new ecosystem as a platform that can provide a new business model for data transactions using AI and blockchain technology.  IVI plans to carry out demonstration experiments for a release in March, 2020 and propose a de facto standard in this field by the end of the project in 2020 by providing an open and neutral mechanism, which more than one hundred FA and IoT companies can use domestically and internationally.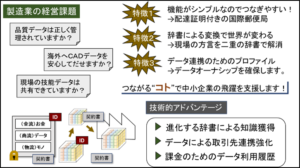 ■ Comment from Yasuyuki Nishioka, IVI President:
 As digital transformation progresses, there are many ways to recognize data as new intellectual properties at production sites, which can be used for further profit making. We need a new mechanism for data circulation that adapts the circumstances of manufacturing in order to make it possible. I anticipate that the current landscape seen in the manufacturing industry will change drastically if a mechanism is provided which allows data to be provided from cooperative companies with confidence that inside data are kept secret and that their rights are retained.
■ What is Connected Industries Open Framework (CIOF)?
   Connected Industries Open Framework (CIOF) is a mechanism to enable data transactions valuable between companies by connecting directly to the business partners and the external business processes, where the data are originating from manufacturing sites through pre-registered software, based on relationships between companies which can trust each other.
■ What is the loose standard dictionary?
  That is a dictionary which embodies the concept of the "loose standard" proposed by IVI, and is used in CIOF. The loose standard dictionary includes an arbitrary common dictionary defined by two parties involved in cooperation and individual dictionaries defined by each user, and the contents of these dictionaries change any time. The loose standard dictionary has a mechanism that can express various field characteristics and have similar terms as much as possible.
■ What is Industrial Value Chain Initiative (IVI)?
  IVI is a forum concentrated on manufacturing and established in June, 2015, aiming to realize "connective" manufacturing which is possible through fusion of manufacturing and IT in the IoT era, based on the concept of "loose standards". Over two hundred and sixty companies are joining domestically and internationally, including IHI, OMRON, Kawasaki Heavy Industries, Kobe Steel, Konno Works, CKD, Toshiba, Toyota Motor Corporation, Nikon, NEC, Panasonic, Hitachi, Fujitsu, Busyu Industry, Brother Industries, Mazda, Yazaki. IVI is proposing a model "IVRA" for a standard, which incorporates the characteristics such as Kaizen and PDCA cycle, which are the strength of Japanese manufacturing industry and introducing introduction methods like "IVIM", "Smart Thinking", etc. to Hanover Messe or internationally.
For inquiries, contact:
     Tadashi Fujimoto ,Kenji Tada
     Email:  office@ iv-i.org
     Secretariat, Industrial Value Chain Initiative
     14-1 Nihonbashi Koamicho, Chuo-ku, Tokyo 103-8548, Japan