Report of IVI Symposium
  The Symposium held on March 10, 2016, it was still chilly day. 450 people ( member parties 200 people, generally other 250 people) visitors a welcome acceptance of it was busy, pepper-kun of the welcome of a special member told me soften the feeling. In the guest greetings, Mr. Toshihide Sugaya, Director of Manufacturing Industry Bureau, Ministry of Economy, Trade and Industry explained "Response to the Fourth Industrial Revolution" .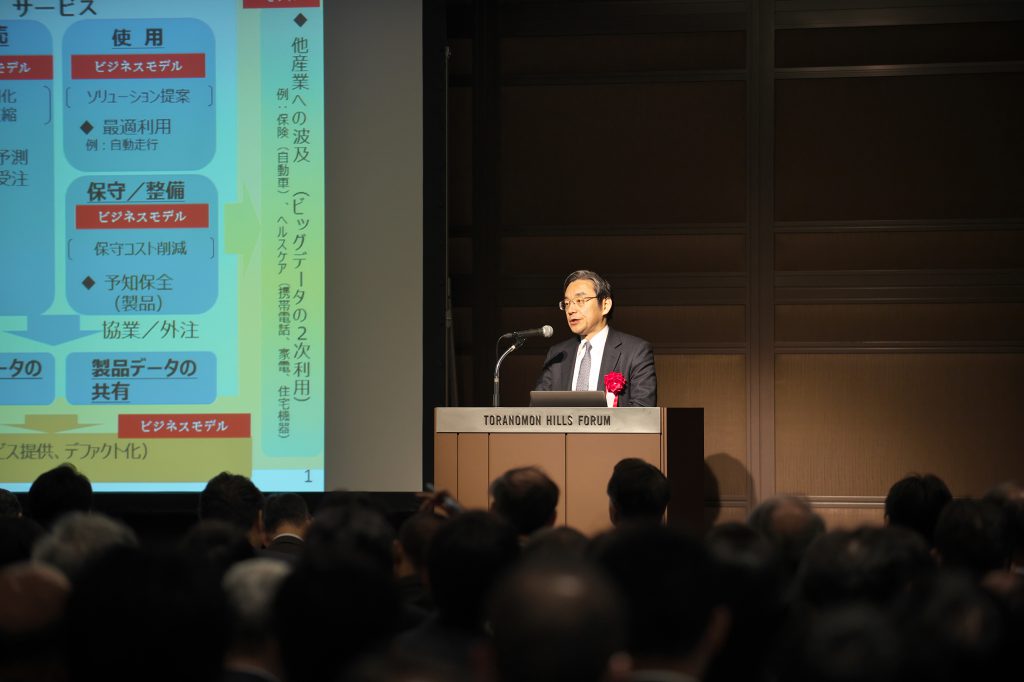 Mr. Toshihide Shibuya, Director, Manufacturing Industry Bureau, Ministry of Economy, Trade and Industry 
■ IoT is not just a big company! According to Mr. Kajitani, "support for introduction to SMEs" is clearly stated in the policy response. The symposium clarifies that IoT has high thresholds and is not limited to large companies , as WG has a "connected town factory centered on SMEs" ( 306 ) . Certainly, SMEs are more constrained than large companies, but I would like to expect IVI to send out an IoT model that can be effective with limited resources . 
■ First, the connection between people is important     At the end of the presentation of the majority of the WG , photos of the social gathering (drinking party) were shown. And it was impressive that the presenter had announced that "not only the connection of data but also the connection between people is important". It may be the first step to "connect" by sharing data only through mutual communication. 
■ from the questionnaire " IoT to the question of how a point is What important as you think as a problem in the manufacturing industry for?" Is, corresponding with a sense of urgency by the top (management) initiative, IoT effect on the cost of the corresponding We received many opinions that it was important to create business models, IT engineers, lack of human resources and knowledge within the company, and ensure security. In response to the question "Opinion about the presentation contents of each WG , the results of the demonstration experiment, etc.", the presentation with the video was easy to understand. We were glad that our activities were evaluated at this symposium, because there were many opinions that we hoped to continue the activities. In response to the question "Please let us know if your organization can contribute to IVI ", we would like to help standardize infrastructure, platforms, BOP models, etc., and develop IVI concepts and methods nationwide. We received many positive opinions that we wanted to participate in the WG . " IVI so far, and for future activities, opinions, please let us know your request" to the question, let's work hard together because they expect the future development, will join the future, slowly Opinion that we would like to be able to instantly materialize and publish a new standard, provide feedback to SMEs, and lead to a system that can be used. 
■ At the end, many participants came to know about IVI activities and received a support message in the questionnaire. In the future, I would like to continue to learn about our activities through symposiums.
Reporter: Fumiko Kawagishi Read more "IVI Letter Vol.3 ( 2016/3/28 ) "