IVI Institute Memorial Symposium (June 17, 2016)
  IVI has achieved many achievements in the year since its establishment. In order to further accelerate these activities and steadily implement new initiatives with a view to the future of manufacturing, we will start again as an industrial value chain initiative from this fiscal year.
  In conjunction with the incorporation meeting on June 18 in the day, IVI corporation Symposium "The 4 this from" begins of making industrial revolution "thing! "
The was held at the Tokyo Big Sight. 500 customers visited.
■ " 2045 Manufacturing – as seen from the future of the year IVI White Paper 2016 in than", IVI introduced the contents of the white paper. In the IVI white paper, we will accurately grasp megatrends and predict the future of the manufacturing industry without being optimistic or pessimistic. Objectively accumulate possible possibilities, share what you see, position it as a core to connect to countermeasures, and with the emergence of a connected world, an environment where new services that have never existed is being created one after another, etc. (The IVI Whitepaper is the first to download four volumes : IoT megatrend 2045 , system theory for field studies, new collaboration with loose standards, and business scenarios for connected factories . )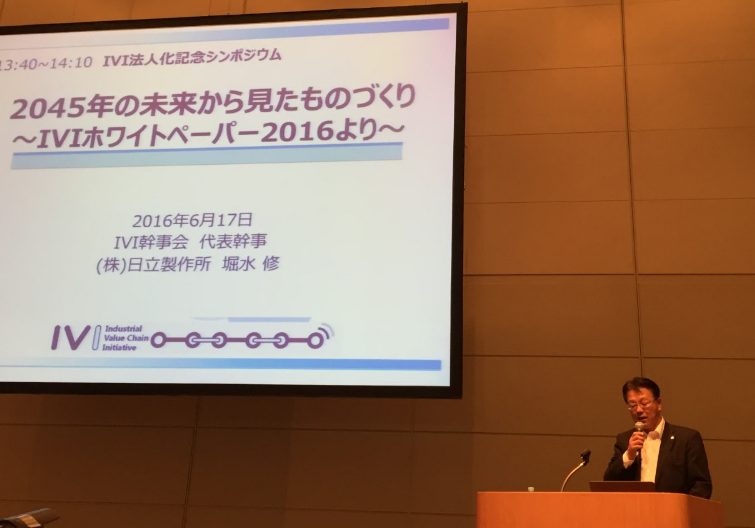 Osamu Horimizu ( Representative Secretary, IVI Executive Committee: Hitachi, Ltd.)
■ The platform was introduced as a new business from FY2016.
■ The award ceremony and commemorative presentation of the " IVI Connected Monozukuri Award 2016 ", which was selected from among the 20 business scenario WG activities in 2015 , was held.
[Best Award]
WG306: "Connected Town Factory / Imano Manufacturing Co., Ltd., etc., mainly SMEs"
[Excellent Award]
WG211: Standardization of working style in a factory where people and equipment collaborate / Toyota Motor,
etc. WG108-3: Assumption MES / DENSO and other
WG106-1 capable of responding to external conditions : Dynamic management of production lines based on actual data / Panasonic, Yokogawa Electric,
etc. WG108-2: Autonomous MES working across companies / Kojima Press Industry ,other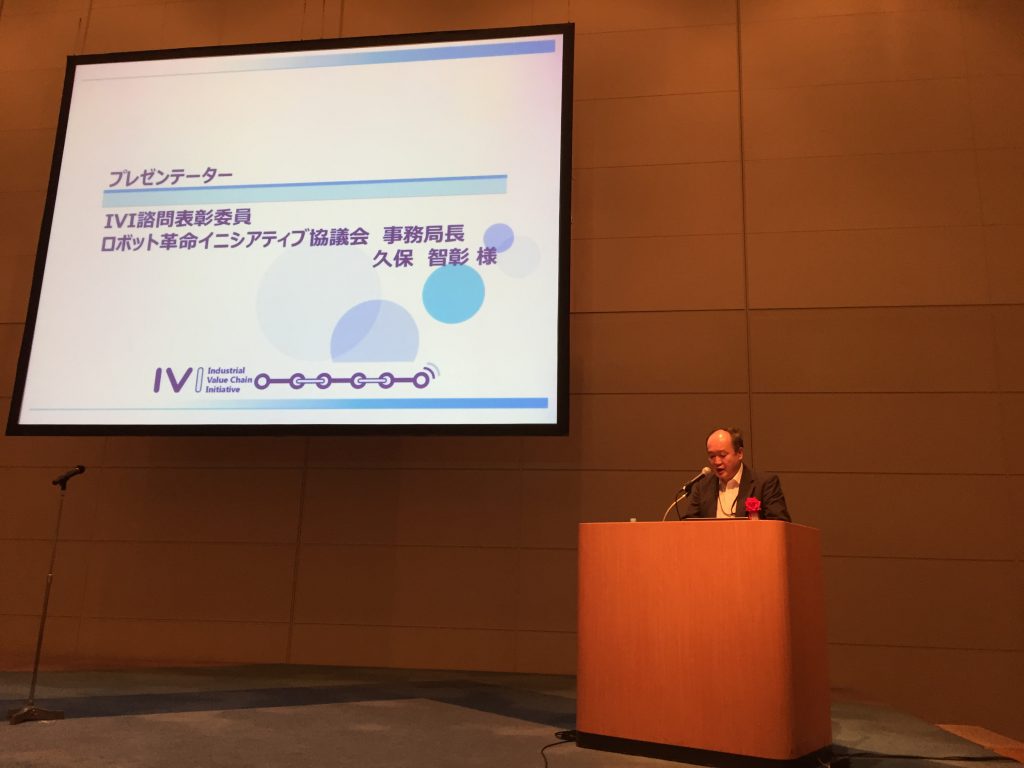 Award presenter: Tomoaki Kubo
(IVI Advisory Committee, Secretary General of the Robot Revolution Initiative Council)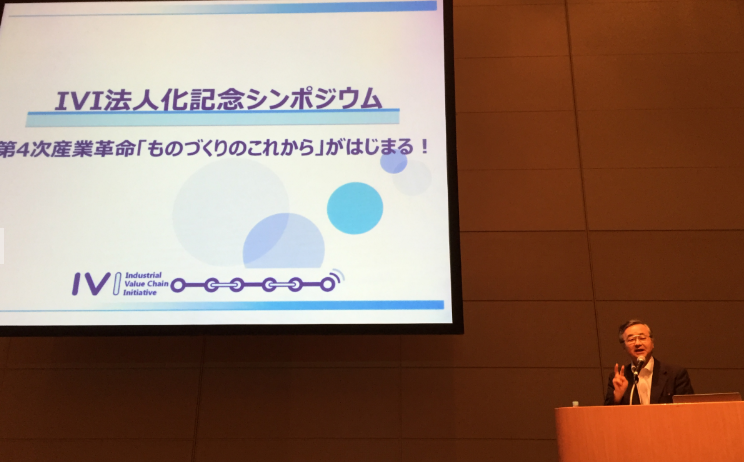 Closing: Kazuo Miyazawa (Director: Manufacturing Science and Technology Center)
→ For information about IVI Corporation Commemorative Symposium ( Presentation materials can be viewed from the pdf mark), see
https://iv-i.org/events/160617.html
→ For download of IVI white paper, go to
https://iv-i.org/download.html
Production System Visualization Exhibition (July 21, 2016)
  All four times are full, and IVI 's work scenario WG report on the results of activities is a great success! –
7 May 21 in the days Tokyo Big Sight Japan Management Association was organized "production system Visualization Exhibition (production and equipment TOKYO2016 in)", IVI2015 fiscal business scenario WG gave the activities report of. Morning 11 o'clock in the evening 17 o'clock 50 the lecture of the minutes 4 was conducted times.
  IVI in four sessions along the announcement of the public symposium, five for each session WG were introduced to digest the activities of on May 3. This lecture needed to be pre-registered from the website, but it was all full the day before. There was reception desk on the day, but this was also almost every time. There are many people who keep listening to the 50- minute lecture while standing, and there are about 10 people who have heard all four lectures .
→ For information about Organizer report, see
http://www.jma.or.jp/mente/etc/quick_report.html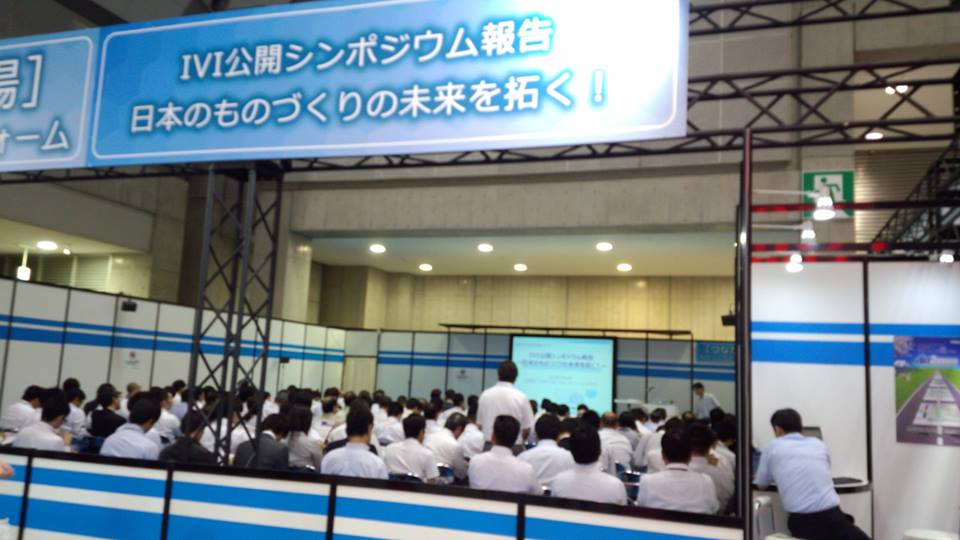 Lecture scenery at Production System Visualization Exhibition
Reporter: Keiichiro Nabeno
Editor's note
  In the 7th issue of the IVI Newsletter , we delivered mainly the report of the IVI Commemorative Symposium. This year, the number of business scenario WGs will increase, and the activities will continue to expand. We will continue to report on the new IVI in the IVI Newsletter. IVI to share the information of IVI we expect that the spread circle of activities.
  We will continue to deliver useful information to everyone, so please look forward to
your patronage.
Issue: Industrial Value Chain Initiative
Publicity Committee