IVI Symposium 2016 -Autumn- (October 13, 2016), Live broadcasted
 October 13 (Thursday) 9:30 ~12:30 the pattern of the morning part of, YouTube and live streaming in.
* This will be distributed only in the morning. * The URL is limited to IVI members and IVI newsletter subscribers. * This is a test. Please send us your comments and comments.
 
 E-mail: office [at] iv-i.org ( Please replace [at] with @ mark.) 
→For the program, see  https://iv-i.org/events/161013.html   
IVI Platform Survey Report, Sales Decided
 October 13  (Thursday) of IVI Symposium 2016-Autumn- in, such as IVI President Nishioka  make the emergency sale of the investigation report that the task team members have created!
  "The 4 in the industrial revolution " platform " survey report on"
 the possibility of ~ Japanese version of the platform –
  Fee: Normal price of 10,000 yen → one day only 6,000 yen (consumption tax included)
  sales volume: 300 parts (first-come, first-served basis, ※ In the case of sold out will be at a later date mailing)
  content
  Survey period: 2016 year 7 May 19 days to 7 May 29 day
  survey: IVI member about 350 people, the major domestic platformer about 10 companies
  total page number 81 page
     <Table of Contents> questionnaire discussion of the results
          investigation of each of the first part of companies or entities
          investigation of each second part of the platform
* Survey reports will be sold at the symposium reception after the morning of the symposium ( 12 : 30- ).
* IVI members will be distributed free of charge as separately announced on the day of the symposium.
 Contact: e-mail office [at] iv-i.org ( Please replace [at] with @ mark.) 
Visit to Platform Industry 4.0 (Berlin, Germany)
 September 13, 2016 (Tuesday) platform Industry in Berlin, Germany 4.0 office  IVI President Yasuyuki Nishioka and Axel Saleck Mr. (IVI evangelist) to visit, the Secretary-General Henning Banthien Mr., and the German Federal Energy Interview with Jan Siedentopp , Secretary of Industry 4.0
 The activities of SMEs in IVI 's working group activities and the approach of the IVI platform were highly appreciated, and expectations were raised for the development of exchanges at the member level and collaboration in standardization activities.
 As for the Japanese system in the cooperative relationship between Japan and Germany, the Robot Revolution Initiative Council is leading the way in responding to government measures and a large framework for cooperation, while IVI is building up needs on a private basis from the bottom up. He explained that the two are very cooperative and complementary.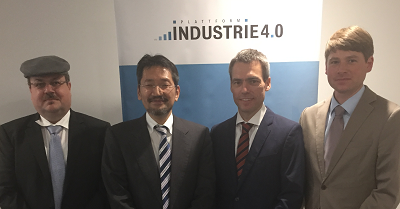 From left : Mr. Saleck , IVI President Nishioka, Executive Director Banthien , Mr. Siedentopp
Meeting with a mission from Baden-Württemberg, Germany 
 September 6, 2016 (Tuesday) delegation of Baden-Württemberg, which had visited Japan from Germany, IVI  President Yasuyuki Nishioka  talks between President was held.
 Participants include Baden-Württemberg International Economic Partnership ( BAden -Württemberg International) , SAP , TRUMPF Group FA Service , VDMA (Mechanical Engineering Industry Association) , German Chamber of Commerce in Germany ( German Chamber of Commerce and Industry in Japan ) and representatives from Karlsruhe Institute of Technology and Esslingen University.
 Because in the Baden-Württemberg is the main industry is manufacturing industry, Industry 4.0 By realization of is that hold the economy of the key, IVI activities of, is particularly interested in the achievements in small and medium-sized enterprises were received.
 In the future, we plan to regularly exchange with other organizations in the state through joint events and mutual visits.
Editor's note
  In the 9th issue of the IVI Newsletter , additional information on the IVI Symposium 2016-Autumn- was presented.  The next issue will be delivered as a special issue reporting on this symposium. We will continue to deliver useful information to everyone, so please look forward to your patronage.
 
Issued by: Industrial Value Chain Initiative Publicity Committee