Industrial Value Chain Initiative (IVI, President: Yasuyuki Nishioka, Professor, Hosei University) and Edgecross Consortium (ECC, Representative Director, Atsushi Morita) have signed a Memorandum of Understanding (MoU) to collaborate in the promotion of activities aimed at development of smart manufacturing (ECC).
Based on this agreement, IVI and ECC will collaborate on activities such as promotion of smart manufacturing technologies and creation of use cases, aiming to contribute to the resolution of social issues such as the SDGs and carbon neutrality.
Details of the agreement
Promotion of technologies for smart manufacturing
Promotion of creation, sharing, and utilization of use cases
Mutual cooperation in promotion of research report meetings and other events
Promotion of mutual cooperation in other mutually recognized activities, including the following;
(1) Research exchange and human resources exchange
(2) Promotion of exchange between members
(3) Mutual support for human resource development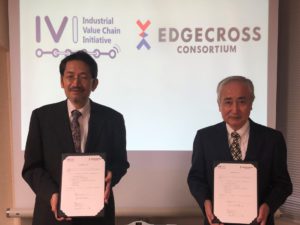 From left to right: IVI President Nishioka and ECC Representative Director Morita
Comments from both organizations
1. Yasuyuki Nishioka, President, Industrial Value Chain Initiative (IVI)
A new era will soon be upon us in which smart manufacturing will digitize operations of manufacturing as well as improve manufacturing sites, and equipment to equipment, equipment to people, and people to people will be smartly connected. We hope that this collaboration will be a big step toward the new era.
2. Atsushi Morita, Representative Director, Edgecross Consortium (ECC)
In order to realize the smart manufacturing industry, it is important to bring together and collaborate with a variety of knowledge. By starting this collaboration in addition to the ECC's activities that have been carried out up to now, we expect that the start of this collaboration will further contribute to the smart manufacturing of the industry.
About the two organizations
1. Institute Industrial Value Chain Initiative (IVI)
IVI was established in June 2015 with the aim of realizing "Connected Manufacturing", which is made possible by integration of manufacturing and IT in the IoT era, based on the concept of "Loose Standards". More than 240 companies in Japan and overseas participate in IVI to promote digital transformation (DX) in the manufacturing industry. In addition to introducing "Smart Thinking," a method for organizational transformation, at Hannover Messe and other events, it also proposes specific software environments for the realization of "Connected Manufacturing" through demonstration experiments of more than 15 use cases every year.
2. Edgecross Consortium (ECC)
ECC was established in November 2017 with the aim of promoting the spread of Edgecross. The consortium has more than 370 members, and has sold approximately 3,500 licenses (as of the end of September 2021) of Edgecross, an open edge computing software platform that realizes coordination of FA and IT.
Contact for inquiries;
Edgecross Consortium Secretariat
Room 301-2, The Kikai Shinko Kaikan building, 3-5-8 Shiba-Koen, Minato-ku, Tokyo 105-0011, Japan
Tel: +81-3-5843-7992
Mail: info@edgecross.org
Web: https://www.edgecross.org
Industrial Value Chain Initiative Secretariat
302, 4-3-28, Kudan-kita, Chiyoda-ku, Tokyo 102-0073, Japan
4-3-28-302 Kudan-kita, Chiyoda-ku, Tokyo 102-0073, Japan TEL: 03-6272-6021
FAX: 03-6272-6023
Mail: office@iv-i.org
Web: https://iv-i.org/
Contact: Masao Kamata, Secretariat